Parks & Recreation
You'll love moving here.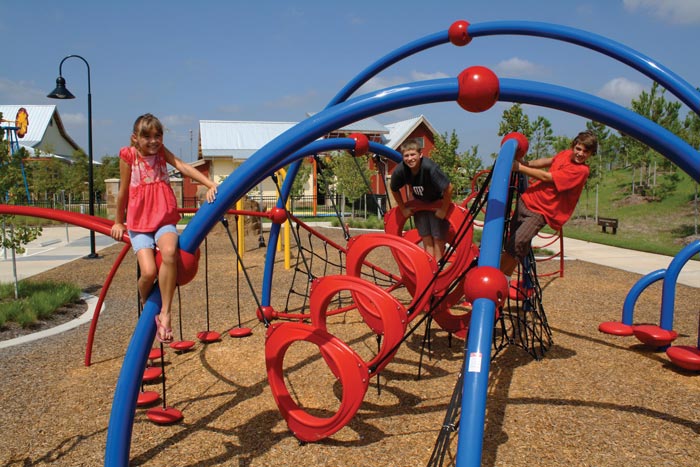 With gently rolling hills and sparkling lakes, Cross Creek Ranch is bursting with natural splendor. But that's only the beginning. Whether you're into leisurely strolls, tennis, basketball, swimming or even kayaking, Cross Creek Ranch's system of trails, green spaces, parks, pools and playgrounds are a constant invitation to get out, explore and have fun.
Within walking distance of every section are a number of pocket parks and playgrounds for kids of all ages.
Pocket parks located within walking distance of every section
Designed with the latest playground equipment
Safety rated for children of all ages
Kiddie cushion mulch-filled surfaces
Arbor Park

Featuring five tennis courts, a basketball court and playgrounds for all ages, Arbor Park is open to all homeowners in Cross Creek Ranch. It is also the main access point to our Flewellen Creek Disc Golf Course. Cross Creek Ranch offers:
Tennis courts perfect for doubles and singles play
Basketball court
Sand volleyball court
Main entry to Flewellen Creek Disc Golf Course
Covered pavilion for picnics and parties
Children's playgrounds for all ages
Restrooms
Key card access
Canine Commons
Specially designed for our four-legged residents, Canine Commons features nearly one acre of fenced dog park with separate areas for larger and smaller breed dogs. The park's amenities include a covered pavilion with tables, benches, drinking fountains, a wash-down area for dogs, and gated entries.

Disc Golf Course
Integrated into the forested Flewellen Creek greenbelt is our fun and challenging disc golf course. Complete with water hazards, slopes and trees, the disc golf course is the perfect addition to the Flewellen Creek because of its low environmental impact. The land doesn't need to be altered, and the natural features actually enhance the play experience. That is how we like to do things at Cross Creek Ranch.


Feel like taking a long walk or bike ride instead? Click here to learn more about our hike and bike trail system.